Ready to comply with the new WV Commercial Building State Energy Code?
ASHRAE 90.1-2010 became effective April 30, 2019. To help the building industry comply, this year's High Performance Building Day will focus on how to meet it and overview the differences between the newer 2013, 2016 and 2019 versions. Thanks to our sponsors our speaker will be ASHRAE Learning Institute (ALI) Mack Wallace. Mr Wallace is a member of the 90.1 Committee and co-authored the book Significant Changes to the ASHRAE 90.1-2010. This class is for design professionals, contractors, manufacturers, code officials and college level students.
At mid-day, ASHRAE Chapter Members Art Hallstrom, P.E. FASHRAE BEMP and Dr. Ken Means, P.E. will overview how to use the DOE COMcheck® form to verify ASHRAE 90.1 compliance to code officials and give an update on the WV ASHRAE Chapter/State Energy Office Project to energy benchmark all public K-12 schools in WV.
Complying with Standard 90.1-2010 Course Description, Agenda & Learning Objectives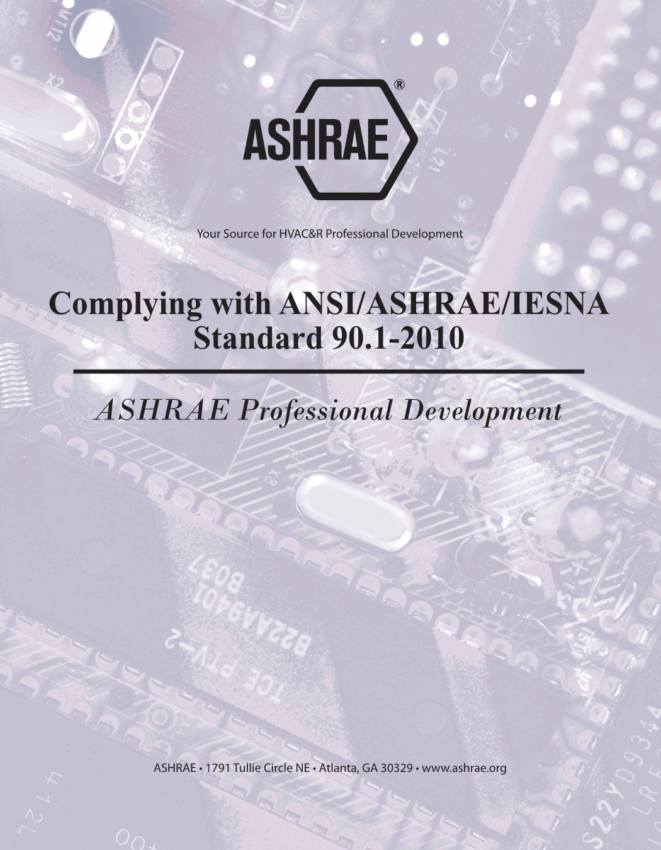 ASHRAE/IES Standard 90.1 is the benchmark for commercial building energy codes in the United States and a key basis for standards in more than 15 countries around the world. The 2010 update of ASHRAE/IES Standard 90.1 is a major revision, saving about 30% more energy than the 2004 version.
Learning Objectives:
Describe the history and development of Standard 90.1
Discuss the changes in the 2010 Standard and overview changes in later versions.
Explain the requirements and mandatory provisions for building envelopes, lighting systems, and HVAC, mechanical, service water heating systems
McHenry (Mack) Wallace Bio
Mack Wallace, P.E., Member ASHRAE, LEED® AP, is a mechanical contractor, consulting engineer, and a registered engineer in Texas for over 30 years. Mr. Wallace is heavily involved on the front lines of the energy conservation industry, having served the past 20+ years on the ASHRAE/IES Standard 90.1 Committee. Mr. Wallace was the engineer of record for many award-winning projects, including the Historic Preservation of the Texas State Capitol Building. He was also was director of design/build services for TXU Energy and responsible for developing and guaranteeing the savings on many energy savings projects. Mr. Wallace has trained thousands of engineers and architects worldwide on ASHRAE/IES Standard 90.1. Currently, Mr. Wallace splits his time between Jacobs and his own company, WiseWatt LLP.
HPDB Event Locations (2 Locations, same program. Please Register soon.)
June 25 – Union Carbide Tech Center, Charleston. 8 am – 4 pm. West Virginia Regional Technology Park, 2001 Union Carbide Drive, South Charleston, WV 25303. Room: David Hendrickson Conference Room. Note: No one should park in the Building 6 parking lot across the road.
June 26 – WVU Engineering Building, Morgantown, WV. 8 am – 4 pm West Virginia University Mineral Resources Building (adjacent to the Engineering Sciences Building), 1306 Evansdale Drive. Morgantown, WV 26506. Room: 113 MRB conference room on the ground floor
To Register: Click here. https://ahallstrom.wufoo.com/forms/m15ltybu16anq0e/
Meals – Continental breakfast and a lunch.
First 100 attendees registered will get a WV Customized course book with the presentation slides for note taking.
Continuing Ed Credits: 7 hours for Code Officials Association Member credit. PDH attendance certificate for all others. AIA credit is 6 hours for all day or the number of hours in 90.1 training.
This Year's HPBD Sponsors: WV Energy Office, WV ASHRAE Chapter, WV AIA, WV Code Officials Association, WVU. Diamond Sponsor – ZMM, Inc., Bronze Sponsors – ZDS Design/Consulting Services, CMTA.
Sponsorship go to the WV ASHRAE Chapter and are tax deductible. To sign up as a sponsor use this link: https://ahallstrom.wufoo.com/forms/waoefj61ari2ly/.
Cost: General Attendee: $100. ASHRAE* or AIA Member* $70. WVCOA* Member – $50. College/University Student in Building Science Course (with ID) – $0. * – member number required at registration.