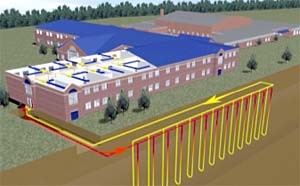 Join us for our 2022 Day of Learning and Trade Show! This year our focus is "Energy efficient systems and Application" and includes 4 technical sessions. We anticipate more than 20 Local HVAC Suppliers/Representatives will be on hand to talk with and discuss latest in systems, equipment and technology.
This event is open to ALL! You do not need to be an ASHRAE or WV ASHRAE member to attend this event.
Seminar attendees will earn a PDH certificate from WV ASHRAE for each seminar attended.
Our chapter continues to follow current CDC, local public health, and hosting location guidelines for public meetings. At this time, masks will be required and will be available at the registration desk for all attendees. Seat spacing will be increased to maintain social distancing.

DATE: Thursday, April 28, 2022
LOCATION: Days Inn, Flatwoods, WV

Schedule:
We have 4 training sessions scheduled this year that will be presented by ASHRAE Distinguished Lecturer, Thomas Durkin, P.E., ASHRAE Fellow. We will also be visited by Region 7 Regional Vice Chair for RP, Christine Keltner, who will give a regional update and install next years officers.
7:30 – 8:15: Registration and Vendor/Sponsor setup, Continental Breakfast setup in Vendor area
8:15 – 10:15: Seminar #1 – Energy Efficient Design and Low Temperature Heating – presented by Tom Durkin
10:15 – 10:45: Break – visit Sponsor booths
10:45 – 11:15: Seminar #2 – Humidity Control – presented by Tom Durkin
11:15 – 11:45: Regional Visitor presentation/Swearing in of Officers
11:45 – 1:00: Buffet Lunch in Visions Restaurant and visit Sponsor booths
1:00 – 2:00: Seminar #3 – Heat Recovery Options – presented by Tom Durkin
2:00 – 2:30: Break – visit Sponsor booths
2:30 – 3:30: Seminar #4 – Geothermal Central Systems – presented by Tom Durkin
3:30 – 3:45: Wrap up, Vendor breakdoown
3:45 – 4:15: Chapter BOG meeting with Regional representatives
Presentation Descriptions:
Seminar #1 – Energy Efficient Design and Low Temperature Heating: Tom Durkin has spent a career in designing energy efficient HVAC systems, and along the way, his designs have won twelve state, national and international awards, all for innovative approaches that save energy. This talk will visit the lessons learned and some mistakes made that continue to shape his design philosophies.
Seminar #2 – Humidity Control: This is a continuation of Seminar #1 with a focus on controlling humidity in buildings.
Seminar # 3 – Heat Recovery Options: This seminar will explore various heat recovery technologies, with particular focus on dedicated heat recovery chiller applications.
Seminar #4 – Geothermal Central Systems: Geothermal systems are recognized for their efficiency and positive environmental impact. But the way they are usually implemented, with distributed heat pumps, could be improved in the opinion Tom Durkin. He will discuss these improvements in the application of geothermal systems.
Hotel Reservations
A block of rooms with 2 double beds have been reserved at the Days Inn for a discounted rate of $96.00/night for this event. This discounted rate expires on April 10, 2022, so make your reservations early! You must mention WV ASHRAE to get this rate when making your reservation. The Days Inn can be reached at (304)765-5055.
General Registration
Access to all training sessions and vendor/sponsor area, continental breakfast and buffet style lunch.
General Attendees – $59
Students – $20

Sponsor/Vendor Registration
Sponsor/Vendor Registration – $249 per booth.
Includes all General Attendee access and meals for one (1) representative, as well as one (1) booth space with table and electricity. A maximum of two (2) booths can be purchased. A General Attendee registration fee is to be paid for each additional attendee accompanying the Primary Sponsor/Vendor registrant. Please note, we do have limited vendor space that can accommodate between 25-30 vendor spaces, so submit your registration early!
Please note that the Sponsor/Vendor Registration form accessed from the button below includes the option to add Event Sponsorship. Your additional Sponsorship of our endeavors is greatly appreciated! Your Sponsorship donation goes toward our Chapter RP fund raising campaign and is submitted to ASHRAE as a tax deductible donation in the Company/donors name for recognition. If you wish to just submit an Event Sponsorship only, please use the button in that section.
Event Sponsorship
100% of your Sponsorship of this event goes toward our Chapter Research Promotion (RP) campaign. Your additional tax-deductible Sponsorship of our endeavors is greatly appreciated. Levels of Sponsorship are:
Your company name will be displayed on our Donor Boards at the Trade Show Entrance, in the event program and on our website.
If you have any questions, please feel free to contact either Jennings Davis at c192web@ashrae.net or Ray Wohlfarth at ray@fireiceheat.com.