---

WV ASHRAE Oct 17 Chapter Meeting
SUBJECT: Water Source Heat Pumps – The Educational Comfort Solution
Water Source Heat Pumps are a very efficient way to condition and de-carbonize buildings Several WV schools now have ground water source heat pumps and the WV ASHRAE/State Energy Benchmarking finds them in the 20 EUI range. This is about 60% less energy than the average WV public school building.
With today's reliability improvements, WSHP are a practical, efficient HVAC system. Our October program  speaker will present on the latest in water and ground heat pump systems and applications and highlight the importance of maintenance and federal tax incentives.
Presenter: Scott Cowley (Mason & Barry, Inc.)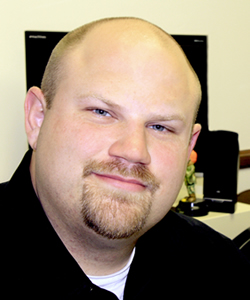 Scott Cowley is the Equipment Product Division Director for Mason & Barry, Inc., and is approaching his 20 year anniversary with the company.  Scott graduated from WVUIT with a BS in Industrial Technologies and an AS in Drafting and Design and than joined Mason & Barry in hydronic sales. He has extensive experience in air side product sales, equipment product sales, and customer support. He also directs the Equipment Product Division. Scott is responsible for relations development with the Professional Engineering community as well as representing Daikin VRV sales and applied systems sales and configuration.
Keep current on this important topic by attending.. One Pdh will be awarded for attending.
Date: Oct 17, 2023
Time: 12:00 1:00 pm (ET)   Note: WV Chapter Board of Governors Meeting is before the Chapter Meeting (11 am to noon)
Cost: $0. Thanks to Mason & Barry, Inc. for being our Lunch/meeting sponsor.
Attend in person or virtual: RSVP is required before Oct 16. ASHRAE members and guests are welcome. Sign up with this form.
https://wvashrae.wufoo.com/forms/wv-ashrae-chapter-meeting-oct-17-2023/
Virtual signups will  get the gotomeeting link on Oct 16.
Meeting Location: Mason & Barry, Inc. 301 Smiley Drive, St. Albans, WV 25177
---
WV State Energy Office and WV ASHRAE Sponsors Building Operator Certification (BOC). Congratulations to the first three graduates.
The Building Operator Certification (BOC) is the Nation's leading competency-based training and credentialing program for building engineers and maintenance personnel. Graduates make their buildings more comfortable, efficient and environmentally friendly, thanks to skills they master in these classes.
BOC teaches building operators to find practical, low-cost and no-cost efficiency solutions by working with existing systems. Independent research shows that BOC operators consistently save money and energy in their facilities — up to $20,000 a year — thanks to energy conservation projects, air quality improvements and other initiatives. Plus, the savings are instant and continuous.
Congratulations to Three of our ASHRAE Members have completed these classes and went on to complete their Certified Building Operator (CBO) Certification. Please congratulate Preston Richmond (WVDE), Ken Hughart (WVDE), and Terry Hollandsworth on their achievement.
ASHRAE News
Register Now for the 2024 ASHRAE Winter Conference in Chicago Registration is now open for the 2024 ASHRAE Winter Conference, to be held January 20-24, 2024, in Chicago. The conference will provide attendees with the opportunity to learn about the latest technology in the built environment and network with other professionals in the industry. In addition to the conference, registration also includes entry to the co-sponsored AHR Expo, which will be held January 22-24, 2024, at McCormick Place. The AHR Expo is the world's largest HVAC&R marketplace, featuring over 2,000 exhibitors and attracting more than 60,000 attendees from around the world. Read more
This Brutal Summer in 10 Alarming Maps and Graphs
Climate Changes continue to change building design and operating conditions. From the Maui wildfires to ultrahigh ocean temperatures, climate change is leaving its devastating mark on the Earth. It's but a taste of the pain to come. Here is an article discussing the latest in this area.
https://www.wired.com/story/this-brutal-summer-in-10-alarming-maps-and-graphs/
Future Chapter 2023-2024 Events
| Event | Date | Time | Location | Program |
| --- | --- | --- | --- | --- |
| Chapter Meeting & Presentation | September: 09/12 (Tuesday) | 1:30-1:00pm Hybrid | The Thrasher Group, Inc. 1000 Corporate Landing, | ASHRAE SPC 241 – Pandemic Response Plans Indoor Air Quality |
| Chapter Meeting & Presentation | October: 10/17 (Tuesday) | 11:30-1:00pm Hybrid | | Mason & Barry Mason & Barry – Water Source Heat Pumps |
| Presentation/Site visit | November: 11/16 (Thursday) | 12:00-1:00pm In Person | | Site visit at Clendennin Elementary School – ZMM (Terry) |
| Christmas Party | December: 12/08 (Friday | 5-8pm In person | Christmas Party – Recovery Sports Bar | |
| Chapter Meeting & Presentation | January: 01/17 (Wed) | 11:30-1:00pm Hybrid | | AEP and/or Mountaineer Gas – Presentation |
| Chapter Meeting & Presentation | February: 02/15 (Thursday) | 1:30-1:00pm Hybrid | | Mason & Barry – TBD |
| Chapter Meeting & Presentation | March: 03/24-25 | All day | Charleston Civic Center | |
| Chapter Meeting & Presentation | April: 04/09 (Tuesday) | 11:30-1:00pm Hybrid | | |
| Day of Learning & Product Show | May: 05/06 (Monday) | 8:00am-5:00pm | Flatwoods, WV | ASHRAE 170 (Hospital) and 62.1 Latest Changes/ALI – |
| Region VII CRC 2024 | July: 07/25-27 | | Memphis, TN | |
---
ASHRAE YEA Member Update
YEA Members … Are you interested in expanding your knowledge, meeting fellow engineers and having some fun along the way? Look no further than YEA Leadership Weekend! YEA Leadership Weekend is an opportunity for you—the future leaders of ASHRAE—to learn more about the Society, develop soft skills and network with other young professionals. Over 600 YEA members have already taken advantage of this great opportunity…will you be next?
This event is held from October 27-29 in Chicago, IL, and will include segments on understanding your own personality as well as other types, leadership development for young professionals, communication techniques and ASHRAE leadership opportunities.
For more information and to sign-up, please talk with Fernanda and then visit the ASHRAE Society YEA website: https://www.ashrae.org/communities/young-engineers-in-ashrae-yea/yea-events-and-programs/yea-leadership-weekend.
---

Join the WV ASHRAE BOG
Do you love ASHRAE and want to get involved in a leadership role? We are always looking for active members to join our Board of Governors (BOG). Please reach out to Fernanda if you're interested in helping us better serve our community!
---
---
WV ASHRAE Chapter Mission
Provide technical. leadership and education support to the WV Building Owners and Design + Construction + Support Community. Local focus areas: green buildings, energy efficient buildings, Indoor air quality, water management, energy codes, refrigeration, HVAC, energy recovery, zero energy use – primarily in nonresidential buildings. ASHRAE supports the Indoor Built Environment with Standards, Research and Training.
WV ASHRAE – ASHRAE Premier Chapter
WV is one of just 7 Chapters Worldwide with Premier Status. We invite you to attend our meetings and events, further your education and career and get networking support. Our Young Engineers Activities (YEA) are for ASHRAE members under 35. The WVU and Marshall WV ASHRAE Student Branches have many building science related students. WV student branch members get free ASHRAE student memberships from the chapter.
---
This web site is maintained by the West Virginia Chapter of ASHRAE. It does not present official positions of the Society nor reflect Society policy. ASHRAE chapters may not act for the Society and the information presented here has not had Society review. To learn more about ASHRAE activities on an international level, contact/visit the ASHRAE home page at www.ashrae.org.
Find an ASHRAE Certified Professional Here.
Find about ASHRAE Learning Institute Here.
Webmaster: Jennings Davis, [email protected]
Last Updated: August 20, 2023