---
Upcoming Dates
October 25-26, 2022: Governor's Energy Summit – Stonewall Jackson Resort
November 16, 2022: Joint meeting with WVSHE and tour of Herbert Hoover High School
December 15, 2022: Holiday Social – Charleston, WV
January 18, 2023: UV Technology – Presented by Lorrie Todd
February 15, 2023: Decarbonization, Presented by Trane
March 22, 2023: WVEXPO – Multiple Presentations to be held
April 22, 2023: WV ASHRAE 2023 Day of Learning/Trade Show – Days Inn, Flatwoods, WV
May 17, 2023: Update on Refrigerants – Virtual Meeting
June 21, 2023: Diversity in ASHRAE and Technology Update Presentation
July 11, 2023: WVASFA Conference – Morgantown, WV
---
2022 Governor's Energy Summit – Building West Virginia's Energy Future
October 24-26, 2022 at Stonewall Jackson Resort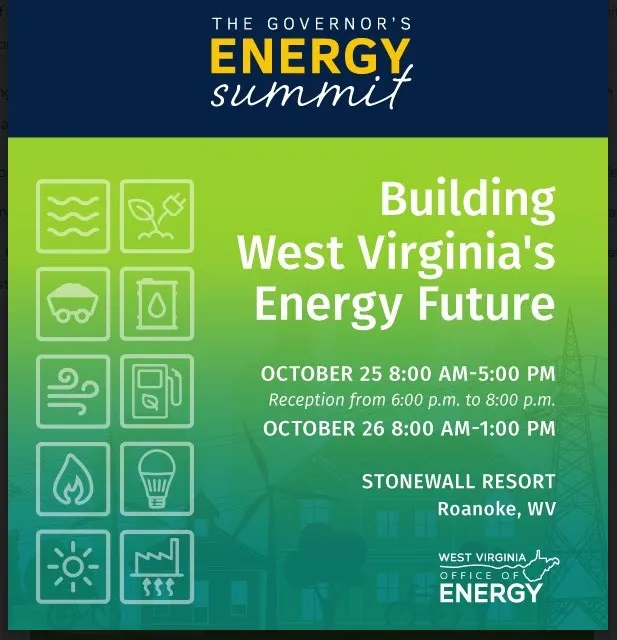 The WV Office of Energy is pleased to announce the 2022 West Virginia Governor's Energy Summit: Building West Virginia's Energy Future! Join us Oct 25-26, 2022. Pre-conference sessions and a welcome reception will be held on Oct 24th.

If you have questions please contact Garrett Weaver at Garrett.C.Weaver@wv.gov.

The location will be the beautiful Stonewall Resort. The address is 940 Resort Drive, Roanoke, WV, 26447.

We look forward to connecting with everyone at our flagship event and sharing all the wonderful things happening in our great state!
Registration:
To register for the event, please visit
https://www.eventbrite.com/e/building-west-virginias-energy-future-tickets-410649462597
.
---
WV ASHRAE PAST PRESENTATIONS
WV EXPO, March 23, 2022 Presentations by Terry Townsend, PE:

---
WV ASHRAE Day Of Learning, April 28, 2022 Presentations by Tom Durkin, PE:
---
Chapter Mission
Provide technical. leadership and education support to the WV Building Owners and Design + Construction + Support Community. Local focus areas: green buildings, energy efficient buildings, Indoor air quality, water management, energy codes, refrigeration, HVAC, energy recovery, zero energy use – primarily in nonresidential buildings. ASHRAE supports the Indoor Built Environment with Standards, Research and Training.
WV ASHRAE is an ASHRAE Premier Chapter:
We invite you to explore our website, attend our meetings and events, further your education and career with ASHRAE products, standards, guidelines and networking support. Our Young Engineers Activities are for ASHRAE members under 35. Our WVU and Marshall Student Branches have almost 100 building science related students. Our student branch members get free ASHRAE student memberships from the chapter.
This web site is maintained by the West Virginia Chapter of ASHRAE. It does not present official positions of the Society nor reflect Society policy. ASHRAE chapters may not act for the Society and the information presented here has not had Society review. To learn more about ASHRAE activities on an international level, contact/visit the ASHRAE home page at www.ashrae.org.
Find an ASHRAE Certified Professional Here.
Find about ASHRAE Learning Institute Here.
Webmaster: Jennings Davis, c192web@ashrae.net
Last Updated: June 25, 2022